Material Specifications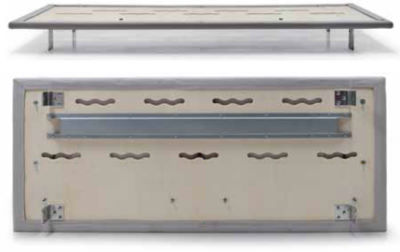 Structure: armrest and backrest in low formaldehyde emission wood chipboard with fillers in wood fibre and fir solid wood, fixed with bolts to the base panel, the panel has holes to allow the fixing of cushions and armrests.
Panel in birch plywood (30 mm thick) made by using heated glue and by pressing the different wood laminas in a crossed pattern. The benefits are: high resistance, maximum lightness and flexibility. A painted metal bar is applied on the panel through bolts, this strengthens the base and avoid the use of an additional middle feet, usually not very pretty to look at.
Padding: all paddings are made of crushproof polyurethane foam, they do not contain SVHC matters and they are certified to be non-toxic. Seat cushions are in D30S crushproof expanded polyurethane, 32 of density; seat cushions are in D18S, 18 of density; armrests in D30, 30 of density. The whole sofa is covered with a 350 gr layer made of needled felt and 100% polyester blend, covered by an additional cover fixed to the structure with a 100% polyester resin.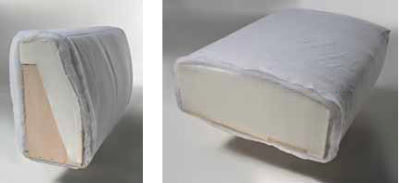 Feet: chromed metal or painted feet, including anti-slip rubbers.
Technical Specifications and Equipment
You can quickly assemble the sofa by paying attention to few simple tricks. The seat cushion can be moved so you can remove and apply the cover and it can go back to the initial position thanks to an insert placed on the base; the different sofa elements can be assembled though a hook placed under the seat cushions, you can easily reach them to adjust them with ease.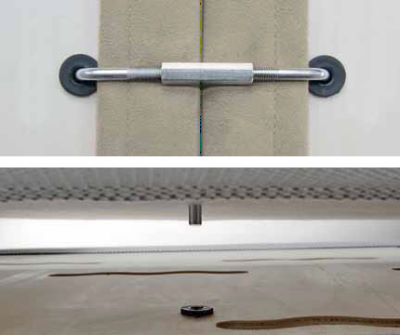 The particular holes on the wood base allow a constant ventilation on the cushions, useful for the hygiene and maintenance of padded elements, furthermore they allow heat diffusion in case of underfloor heating. High metal feet make the cleaning under the sofa easier.
For more information...
Aliseo sofa is to be considered an eco-friendly product as it can be disassembled in its main components (wood, metal, fabrics and padding), thanks to the choice of using mechanic fittings like hooks, screws and bolts instead of glue.
Of the materials used, a good percentage is potentially recyclable: for example the plywood and chipboard panels can be recycled to make other particle wood panels; expanded polyurethane parts can be mashed to obtain a mixture to use in low quality sheets (back of rugs, shoes, gym mats and so on...); polyester paddings, fabrics and natural fibres can be used to produce new recycled fibres; aluminium and steel have a consolidated recycling cycle thus reducing the use of raw materials coming directly from mines.