Panel element with shelves H.96 for Easy modular walk-in closets; available in five different models which differ as to number and placement of shelves and presence of clothes hanger rod. The clothes hanger rod is optional and it is always placed under the inferior shelf.
It is an extremely versatile collection as it allows to create fully customized compositions: it is possible to play with models and direction of every single column. The number of available compositions increases if the column element is combined with Easy H.240 panel element and Easy H.48 column element belonging to the same collection.
To complete Easy walk-in closet you can add the chest of drawers, chest of drawers with casters, the shirt rack and the floor bench you can find in the Internal Equipment section.
Among the photos you can view some examples of Easy walk-in closets which can give you suggestions and and ideas for your own walk-in closet. You can download the Design your Walk-in Closet pdf file to easily choose, print and cut the single items and arrange them like a puzzle in several possible configurations. We suggest you to print the 7-page pdf file in two or more copies in order to use the same element twice or more.
In addition, you can use the Draw your Walk-in Closet pdf to draw hand your composition or place the clippings.
Model



Please note that Please note that the illustrated schemes come with a Left direction.
Measurements
- cm 66 / 86 d.46,4 h.96
Panel
Thickness: cm 4,4
To combine different elements please consider that each element has a height of 48 cm.
The panel is fastened to the wall through brackets and it can be adjusted in its height.
Shelf
Depth: cm 42
Thickness: cm 4
L-shaped shelf height: cm 23,2
Shelves Finish
- matt lacquered Decor melamine
Shelves Colour Code
You can view all available finishes and colours in detail by clicking on the "View Samples and Colour Codes" banner below the menu; once you've chosen the desired colour, please write its code in the required field.
Panel Colour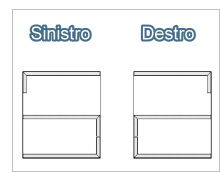 - Decor melamine: white, dove grey
Direction
The placement of the vertical upper L-shaped shelf determines the element direction; all the illustrated schemes in the "Model" paragraph comes with a Left direction.
Optional - Remove Shelves
It is possible to remove a shelf from the chosen panel; the new configuration of the panel has to be communicate to our Customer Care after the purchase.
Optional
- clothes hanger rod which has to be placed under the inferior shelf (for A and B model under the only shelf)
Optional - Corner Walk-In Closet
- side panel cm 46,4 h.96 with a thickness of 4,4
For further information or to compare the available walk-in closets you can also read the "Create your custom-made Walk-in Closet" tutorial page.