This page has been automatically translated by the system, if you need a translation from our team, please contact us.
L 'Bracket for Element Joyce walk-in closet is designed specifically for environments cab corners and is available in two different models defined by the number of shelves and hanging rails.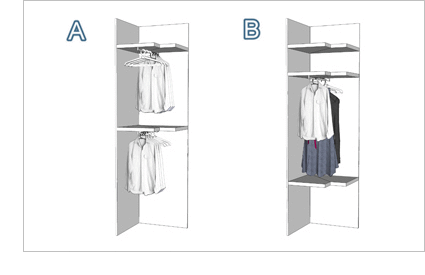 L 'corner element is composed of:
- 2 shelves
- 2 hanging rails
L 'Corner Element B is composed of:
- 3 shelves
- 1 tube hanger
Both models of the corner are available in four heights of the collection Joyce: 226, 239, 255 and 291 cm.
With each model can create solutions may be different from those proposed by simply changing the height positioning of the shelves according to your needs. This allows you to match the corner element to the various models available for walk-in closets Joyce.
Dimensions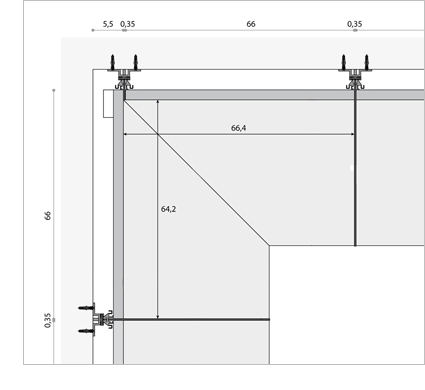 The angular element is composed of two panels by 66 cm for a total size of the angle of 70 x 71.8 cm.
The difference between the two sides of 1.8 cm is due to the overlapping of the panels at a corner of the rack.
The tubing hanger is positioned on the longer side.
Shelf depth: 47 cm
Panel thickness: 5.5 cm
Shelf Thickness: 4 cm
Step rack: 3.2 cm
Finish Shelves
- Ennobled: tobacco oak, hickory
Melamine - Decor

Color Code Shelves
To view the detailed finishes and colors, please click on the icon at the top "View Samples and Colour Codes" and enter the code in the appropriate field text color.

Finish Panel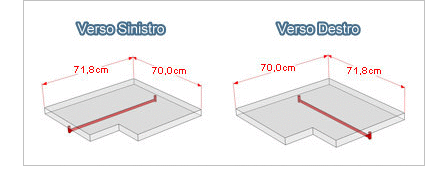 Melamine - Decor: white, taupe
Height
- Cm 226/239/255/291
Towards Element Corner
The tubing hanger is positioned on the longer side of the angular element: it is therefore necessary to choose the right or left. Choosing the right towards the hanger tube will be placed on the right side and vice versa.
---
Supplement for angle Fuorisquadra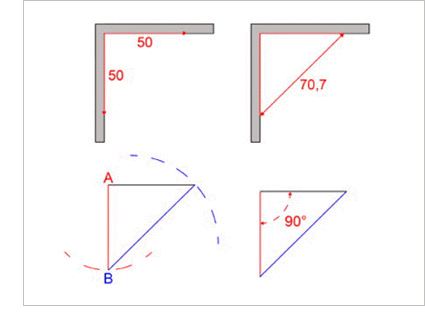 You must make sure that the angle on which you place the corner element Joyce is square, that the angle measuring exactly 90 °.
To measure the angle is sufficient:
- Measuring for each of the two walls a distance of 50 cm from
- Mark on each wall the distance measured
- On the floor with a tape measure the diagonal that joins the two points previously recognized.
If you've got is the diagonal of 70.7 cm your corner will have an amplitude of 90 °. Otherwise you will have to select the supplement angle Fuorisquadra and provide us with the length of the diagonal obtained.
For each of the two models A and B made with angle measurement will be calculated on a surcharge proportional to the number of shelves provided.
It should be remembered that the minimum width and the maximum width allowed for the inclusion of a walk-in closet angle are respectively 88 ° and 94 °.