Joyce full height walk-in closet with panels h.291 for high ceilings, available in height different models which differ as to number and placement of shelves and presence of clothes hanger rod.
Each panel is fastened to vertical racks to which shelves and other accessories - such as chest of drawers and shirt racks - are fixed. The rack system is extremely flexible and versatile: each shelf or accessory can be fixed by using brackets for an aligned or "not aligned" assembly; both bracket types are included in the packages. This allows to decide the configuration of each panel by the moment of assembling and to change it in a second moment.

By playing with the eight models available, their optional equipment and finishes coming in more than 20 colours, you will be able to create fully equipped and customized walk-in closets, suitable to meet any need or taste. Among the photos you can view some examples of compositions which can give you suggestions and ideas for your own walk-in closet.
You can download the Design your Walk-in Closet pdf file to easily choose, print and cut the single items and arrange them like a puzzle in several possible configurations. We suggest you to print the 3-page pdf file in two or more copies in order to use the same element twice or more.

Model
The schemes show the eight models available, which can be used as basic elements to create compositions which are always different and able to meet specific needs.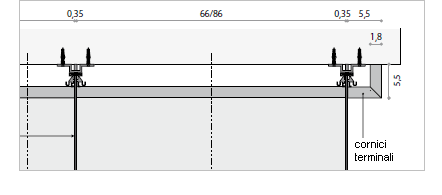 Measurements
- cm 66 / 86 d.52,5 h.291
Shelves depth: cm 47
Panel thickness: cm 5,5
Shelves thickness: cm 4
Rack gap: cm 3,2
Shelves Finish
- Decor melamine
Shelves Colour Code
You can view all available finishes and colours in detail by clicking on the "View Samples and Colour Codes" banner below the menu; once you've chosen the desired colour, please write its code in the required field.
Panel Colour
- Decor melamine: white, dove grey
Placement
For each panel a rack is included; to close the composition a side element is required for each side.
- central: the panel is framed between two other panels and doesn't require any side element; add +0,35 cm to the standard width.
- to the left: the panel starts the composition to the extreme left, a left side element is added; add +5,85 cm to the standard width.
- to the right: the panel closes the composition to the extreme right and a right side element with rack is added; add +6,20 cm to the standard width.
- independent: the panel is fixed individually and left and right side elements are added; add +11,70 cm to the standard width.
Corner Element
Joyce allows to create corner walk-in closets by adding a junction corner element. In order to configure a corner walk-in closet add a corner element - which you can view in Joyce Corner Element product card - to the other Joyce models.