The living room is the one environment of the house where we can all express our personality and where the professional 3D Interior Design service can really make a difference: a professional project allows you to improve the value of your life style in the room usually dedicated to your free time and to socialization.
Living Room 3D Design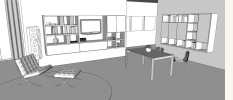 The 3D model is created following the environment plan information and allows to study all spaces and volumes of the room. While viewing the design you can freely navigate within the environment, make measurements and move objects and elements; moreover, by printing it without textures you can paint it in a traditional way.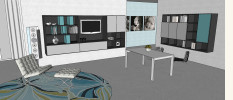 Afterwards, the tracts that characterize the project idea are identified, these tracts reflect on the chosen furniture and materials. Everything is done by following the customer's indications filled in the form, in order to respect and satisfy all his needs.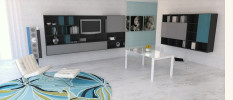 From the complete 3D model, we extract two high resolution photorealistic images: a real "window on the future" picturing your completed open space, even before furniture production. Moreover, it will be possible to create .jpg images from every desired point of views, in this way you can share them with everyone using a universal format that can be viewed from every computer.