This page has been automatically translated by the system, if you need a translation from our team, please contact us.
The service of 3D design professional can make a difference in terms of the end result: a professional project allows you to make the most of your lifestyle in every room of the house.
Bathroom Planning Service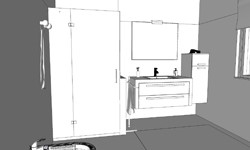 The 3D model arises from the directions planimetric environment and allows to study the spaces and the volumetric aspects of the bathroom. Through the model can move in the room, take measurements and move objects and elements, textures without printing it can also be colored in the traditional way.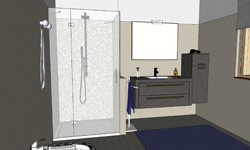 They are then identified the hallmarks of the 'project idea which is reflected in the arrangement of furniture and the choice of materials: everything following the directions that the customer provides us through the form to comply with and satisfy all their needs.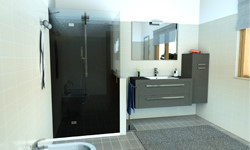 From the complete 3D model is obtained a 'high-resolution photo-realistic image of the environment: a "window into the future" photographing your bathroom completed before it is put into production furniture. Will it be possible to create images in jpg format all views that you will "photograph" to share your photos in a universal format viewable by all computers.



Optional

- The Scheme of Technical Installations is a service offered for the coordination of furniture with plumbing, electrical and installation of wall coverings. The Scheme Plant is sent by mail, complete with dimensions and technical symbols. The positioning of the attacks must be verified by a plumber / electrician certified: Our consulting about it in fact relates to the compatibility between plants and furniture.