Appeal armchair with lift-up mechanism is available in fabric or faux leather cover, totally removable.
Appeal armchair is available either with manual Relax device, which allows you to recline the back and extend footrest, or with Superelax Lift mechanism with two independent engines that includes the person lifting device. The reclining mechanism for headrest and footrest, and the person lifting device are operated by a remote with two buttons.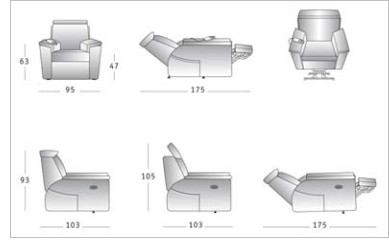 Measurements
- with closed mechanism: cm 95 h.93 d.103
- with open mechanisms: 95 cm d.180 h.105
Footrest depth: 49 cm
Mechanism Characteristics
- Fixed armchair with reclining headrest (without electric mechanism)
- Manual Relax: takes you to the relax position by a light pressure of the body on the backrest, or with a simple lever
- Superelax Lift: twin engine that allows you to control the movements of the backrest and footrest independently. Includes Person Lift device. The movement functions are controlled via a simple two button remote control.
Cover Category
- Category A fabric
- Cat. Super fabric
- Cat. Extra fabric / leather
- Cat. Vip fabric
Cover Code
To view the available colours click on the "Choose Cover Code" and enter the code in the appropriate text field.
---
Tax relief for disabled
The disabled or handicapped people can take advantage of tax breaks combined with sales of armchairs with Person Lift system (with or without other features, such as vibro ); all those who are recognized as people with disabilities pursuant to art. The Ministerial Decree 14.03.1998, equipped with the required documentation, will benefit from the purchase of these armchairs with reduced VAT to 4% instead of 22%.
More information at Tax Incentives for disabled .