Jean extending table by Eileen Gray bears the name of her friend and architect Jean Badovici. Inside E1027 villa, the one the two owned, you couldn't find a room without a Jean table, testimony of the great versatility of this model. Jean table is a design product made in Italy, realized by a hand-craft workshop specialized in metal and leather manufacturing.
Measurements
- rectangular: cm 64 (extended to 128) x 70 x h.72
Top Finish
- black laminate
- white laminate
Structure Finish
- chromed steel tube
The interior designer's opinion
Jean is a slightly lower table than usual (tables normally have an height of around 75-76 cm). This table is small and compact and when closed can be used either with two chairs or, for a more original combination, with two ottomans measuring cm 40 x 40. Maybe choosing a black, white or bordeaux eco-leather cover that will match perfectly with the black laminate top and chromed structure. This last combination offers a perfect balance between the ottoman seat height and the table height.
Designer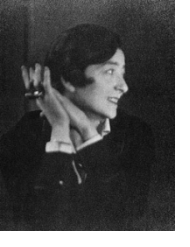 Eileen Gray had Scottish-Irish origins. When her father died in 1900, she had already been living in London for two years and was attending drawing lessons at "Slade School of Fine Art". She discovered D. Charles laboratory, a painter specialized in lacquer work. She worked with him and learned all the precious fundamentals she then used for the whole period of her professional career. In 1902 she went to Paris where she kept specializing in drawing art and in oriental lacquers. Here she met Sugawara, a Japanese man known for its decorative lacquer work. She was noticed by the great tailor Jacques Doucet, an art collector that hired her to furnish his entire house. She also realized two tables and a screening, her only dated and signed works. Her first big job was Madame Lévy's furniture (the famous hat designer Suzanne Talbot) in Rue de Lota. In 1922 she opened, in the elegant Rue Faubourg St. Honoré, the "Jean Désert" gallery where she displayed and sold furniture, screenings and lamps. After four years of intense studies, advised by theorist Jean Badovici, she built in Roguebrune, on the Mediterranean coast, a house for herself: wide and practical, with many different thoughtful and funny details. Also Badovic apartment in Paris and her second house in Castellar, on the riviera, are proofs of Gray's intelligence and creativity richness. Not long before her death she had the satisfaction of displaying some of her most significant works at "Musée Des Arts Decoratifs" in Paris.